If you are going to Blue Cruise for the first time, you may think will be get bored? You may find all your answers below. The life in boat is very simple and ordinary; however you can encolor it with different activities. You can start your day with swimming and continue with your breakfast in quiet and tranquil nature. After breakfast the boat will start daily sail, while you sailing you can rest under the sun by watching all beauties of nature. For lunch our crew will prepare original Turkish and Greek mezes with olive oil.

After lunch when you reach your destination you can take a walk or swim or visit historical sites, fishermen villages. After 5 o'clock tea the boat will sail to night bay, if you want you can wacth the sunset with your drinks. After dinner you can enjoy spending time with your family or friends, play games or watch the stars. Our agency can provide different kinds of activities or land tours instead of all above services. You can visit our website www.bodrumtour.com for extra tours and activities.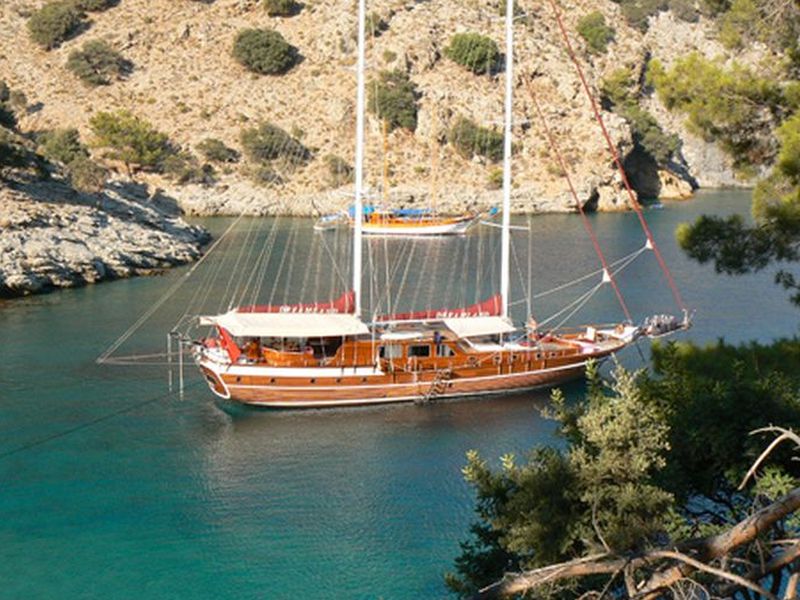 BLUE CRUISE ACTIVITIES
Water Sports: In Blue Cruise all boats have service boat, amateur fishing equipments, playing cards, black gammon, fins, snorkel and masks. Deluxe category boats also have water skies, Jet Ski, banana and wind surf; you can use them by paying only extra fuel. We can also arrange different water sports in water sports centres.

Scuba Diving: There a lot of scuba diving schools in departure ports Bodrum , Marmaris , Fethiye and Göcek. If you have certificate your can make two dives in one day or if you do not have certificate you can get a small training and make one dive. If you want we can make your reservations for diving or if you would like to have certificate before or after blue cruise we can arrange your training. Our colleagues will help you with your requests.

Mainland Tours: Jeep Safari - rafting – historical site visits will make your Blue Cruise unforgettable. Our agency can organise mainland tours if you inform us before your cruise. There are a lot of options for mainland tours which can organise according to your itinerary. You can visit historical places like Ephesus, Dalyan, , Didyma , Priene, Miletus, Xanthos , Phaselis , Olympos, or nature wonders like Caunos , iztuzu and Turtle Beach, Saklikent National Park, Village Tour, Turkish Bath, Jeep Safari, Rafting. If your cruise departs or finishes at Fethiye and you like adrenalin we can suggest parachute or paragliding to see Oludeniz's top view.

Hiking: During blue cruise you can visit the main land and you can hiki around the bays. You can visit a lot of different places such as Çökertme , Akyaka , Ekincik , Kaş , Kekova , Lycia cities, St. Nicola Island, abonded Greek village Kaya Koy, Knidos Antique Theatre, Dalyan Caunos and Mud baths vb. We can organise professional guide and if you want to have you lunch during your hike our sailors can help you with it.

Restaurants & Night Life: During Blue Cruise you can prefer to go on mainland for lunches or dinners. You can enjoy the best seafood in Turkish or Greek Restaurants. If you would like to see night life you can stay the first and last days in departure port and you can explore the night life of Bodrum , Marmaris or Greek Islands.

Bicycle: Bicycle and Boats. Blue Cruise and Bicycle are two items that cannot think together. However we can combine them for you and if you are a bicycle lover this holiday will be unforgettable for you. We will take off the bicycles when you depart from the boat and you can enjoy the mainland while riding and we will again meet you at the finish point of the tour with our boat. Our professional guides will prepare different itineraries. You can make bicycle and blue cruise tour either by private boat or by cabin cruise.

Massage: You can relieve tiredness of all year during Blue Cruise and relax. If you want massage during Blue Cruise we can arrange certificated masseuse with reservation.

Yoga: We can arrange private yoga activities for your group. Our certificated yoga teachers will keep company during you daily or weekly tour. You can enjoy yoga in amazing views of Bodrum, Marmaris, Fethiye and Gocek Bays.
OTHER BLUE CRUISE ACTIVITIES
* Swimming: You can swim whenever you want during day or night.
* Photo Shooting: If you are a professional photographer or a cell phone photographer the nature will give you very nice photos during Blue Cruise. You cannot believe the light – the colours of nature, sea and sunsets.
* Reading books or maybe writing. Bring all your books which you cannot read during your ordinary life and enjoy reading them along with breeze on board.
* Chit chat: Blue cruise gives you opportunity to spend time with your family or friends and you can enjoy long conversations which you can not find time in during your daily rush.
* You can have fun with all card games, backgammon, chess, okay game, domino, scrabble, taboo, monopoly etc. You have plenty of time to play on board.
* Fly a kite: In big cities you have spend a lot of time in traffic to catch the wind. You can try flying kite in every hour on deck.
* Fishing: Fishing is a very serious hobby if you are interested. In one week you can spend time on fishing and become professional. You can bring your equipments with you.
* Meditation and yoga with the sound of waves.