A catamaran is a multi-hulled watercraft featuring two parallel hulls of equal size. The size of the saloon and well deck is larger than sailing boats. The first catamarans were used by Sri Lanka, India and Polynesia Indians and become the source of inspiration of today's modern – comfortable catamarans. Nowadays catamarans have generator, AC, GPS, autopilot, internet connection etc.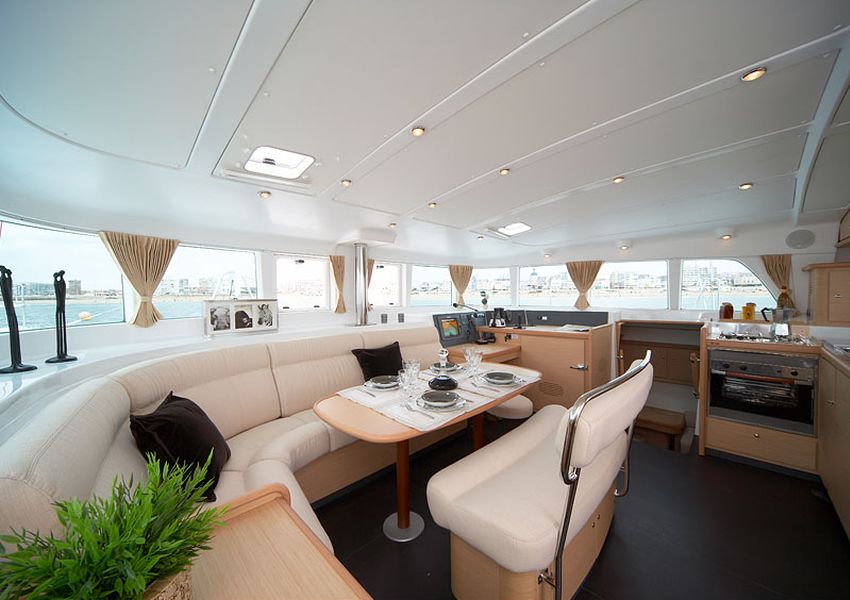 Advantages of Catamaran Rentals in Bodrum: The catamarans have a huge inner size and the cabins are bright and big. Since they are two parallel hulls they will not list and you can sail in high speeds. In shallow waters they can move easily and will be more stable than other boats. If you set sail they are very economic boats and they are engine capacity is same size as soling boats.

Disadvantages of Catamaran Rentals: The marina expenses is more expensive rather than other boats. If you would like to buy a catamaran it will be also expensive than other boats. First you can can rent and try our catamarans in Bodrum. If you consider all above subjects, Bodrum catamaran rental can offer you comfortable and untroubled holidays. Our agency can offer catamaran rentals from Bodrum, Göcek, Marmaris, Fethiye or Greek Islands, Crotia, Montenegro, Italy, Malta, France, Caraibbean and Thailand. Departure and returns days for catamaran rental are Saturday. The catamaran should return to last port on Friday night and you can leave from cat on Saturday at 09:00

We recommend you to hire a catamaran with captain although if you have licence and experience. Catamarans are larger than sailing boats and gullets and more difficult to sail when you are entering ports and marinas. When you hire the catamaran with captain you can explore stay on mainland for dinner and enjoy your holiday more. Our captains can help you to sail if you have licence and help you to get more experience. Our cooks or hostesses can help you to cook food during your trip.
Bodrum Catamaran Rental Fee Includes;
• 18 % VAT
• Port Fees on first and last day
• Moorage Fees on first and last day
• Standard Equipment, Autopilot, GPS
• Transit Log
• Outboard Motor
• End Cleaning – Face and Bath Towels
• Airport Transfers

Extras in Catamaran Rental Bodrum
• Fuel & Water Consumption
• Food and beverage
• Marina fees and taxes
• Taxes and Transit Log Fees of Greek Islands

Optional Extras in Catamaran Rental Bodrum
• Captain € 850 + food / weekly
• Hostess € 700 + food / weekly
• Balloon Sail € 140 / weekly
• Wi-Fi package € 60 / weekly

Discounts and Early Booking Advantages in Bodrum catamaran Rentals
• 10 % for reservations until end of February
• 5 % for two weeks rentals
• 10 % for three weeks rentals

Deposit for Catamaran Rentals in Bodrum
• The deposit for catamaran rentals is € 2000

Terms of Payment
• % 30 Down Payment
• % 70 last Payment
• You can make the payment by bank transfer or credit card (visa or master card), Click here for Lagoon Catamarans