1-What is Blue Cruise and Gulet?
First Blue Cruises – Gulet Charters made by a worldwide known writer Cevat Sakir and his writer friends Azra Erhat and Selahattin Eyuboglu and Azra Erhat named one of her books as Blue Cruise in 1957. In first years of Blue Cruise simple fishing boats and sponge boats were used however after a so many years nowadays modern designed boats called Gullets are using find Blue Cruise. Gullets have twin poles; AC, TV generator etc. are very popular in Blue Cruise and a very popular choice for gulet holidays.

Today if you would like to go a Blue Cruise you can depart from Bodrum, Gocek, Marmaris, Fethiye to Greek Islands and make a nice tour in Aegean and Mediterranean Seas. If you do not have enough numbers to rent a gullet and has a passion for Blue Cruise, you can join our cabin charters departing from Bodrum, Marmaris, Fethiye and Rhodes, and you can spend your holiday with other worldwide guests. You share the gulets with reasonable prices with others and spend holiday on sea.
2-What is the Best Season for Blue Cruise Cabin Charter ?
From April to November the weather and the sea in Aegean and Mediterranean Sea will be suitable for cabin charter. If you would like to go cabin cruise in june and september you can suntan without any sun burns. However if you would like to swim any hour of day and night we recommend you July and august. In low season the sea and the beaches will not be crowded and you can enjoy the nature, there can be showers but they will not lead more than couple of hours. In low season such as May and October we can apply you extra discounts for cabin cruises with perfect prices. Our prices start from 210 €
Weather and Sea Conditions
April
May
June
July
Aug
Sept
Oct
Air Temp
24
26
30
33
34
30
24
Sea Temp
18
20
22
24
25
24
22
3- What are the Criteria for Cabin Charter Cruise?
Cabin charter is like renting a hotel room on a boat. If you cannot reach to numbers for private boat rent, you can take cabin charter is suitable for you. All cabins in the boat can be rent and you can enjoy your trip with other guests. The budget for cabin charter is cheaper than gulet - boat rentals. We will be happy to help you find a tour which suits your group, budget and pleasure. We have 21 different itineraries which depart on each departure day. If you would like to go to Greek Islands with cabin charter you have to get your schengen visa before your trip. We will announce the name of the boats 1 day before your departure. Every detail such as itinerary, tour dates, places which you will visit during tour, menus are determined as standards of the tour.

4- The Advantages of Cabin Cruise
In cabin cruises you may have the chance to go to same itineraries and bays without renting a boat. In cabin cruises the prices includes: boat rental fee, fuel, charter & berth taxes at ports, food for guests and crew, 5 o'clock tea, tap water, boat insurance are included. You can meet other guests from all over the world and spend time together. For cabin charters you can choose a 3 nights – 4 days tour or a weekly tour starting from different spots such as Bodrum – Fethiye – Marmaris – Olimpos – Antalya or Rhodes.

5- How is the Food Organisation in cabin Charter? 
The crew on the boat will prepare and serve breakfast, lunch, 5 o'clock tea and dinner in reasonable hours. According to weather and sailing conditions the timings can change by captain. We are serving unlimited tea and coffee during breakfast and 5 o'clock tea.


6- What Kind of Activities Can We Make During Cabin Charter?
During Blue Cruise you can enjoy the sun, swim all day, read books or magazines or rest. If you are a water sports fan our crew will arrange activities for you according to the location of your boat. If you would like to go to mainland you can visit historical or touristic places, go walking or rent a bike, motorcycle or car to make a little trip to nearby places according to the program of the boat.

You can visit our info pages to find useful information about the places you can visit during each itinerary. Our crew will help you for renting car, bike, motorcycle and tours during your holiday. www.bodrumtour.com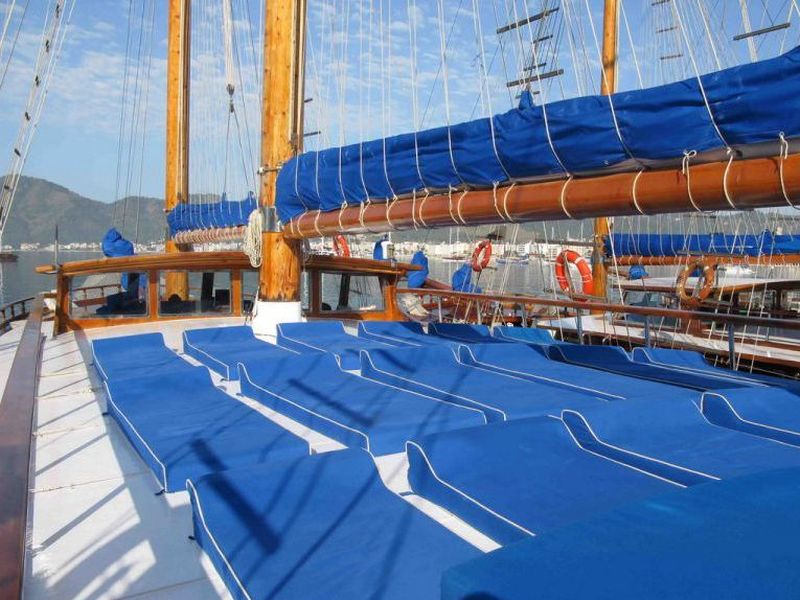 7- Can we visit Greek Islands during Cabin Cruise?
The procedure for entering by boat is same for any other ways you have to bring your passport with you and please check if you need visa to enter Greece. We will provide visa and passport for the crew of the boat however visa of the passengers is its own responsibility. If you need to get visa you can ask for confirmation letter.. The tax of Greek ports and expenses are included in the price of cabin rentals. this year we start and finish all inclusive a/c cabin charter from Rhodes Greece.

8- Cabin Charter Itineraries
You can visit our website to see the alternative itineraries. Each itinerary is different and one of them should suit you up according to your budget, dates and pleasure. You can join a 3 nights / 4 days or weekly tour from different port according to your request.

9- What Should I Bring with Me for Cabin Cruise?
For your weekly tour on the gullet your basic needs swim suites, sun glasses, sun protection cream, towel and hat. You should also bring a basic sweatshirt, for rainy days a small raincoat, if you would like to spend some time on mainland you should also bring t-shirts, shorts and dresses. Most of the boats the deck is tick and you are not allowed to wear shoes, if do not want to be bare feet you can bring plastic slippers or sea / surf shoes. Folding sport suitcases can give you more space in your cabin. If you are travelling with lots of suitcases we can storage empty suitcases in our offices in Bodrum.

10- What is Included in the Price for Cabin Charters?
For cabin charters, 3 main meals and 5 o'clock tea, all charter & berth taxes at the home port, port mooring fees in Turkish and Greek ports, boat insurance, fuel, transit log, dry cleaning, tap water, staff and snorkel, masks, fins, fishing equipments and canoes are included in price.

11- What is not Included in the Price for Cabin Charters?
For cabin charters, drinking water, alcoholic and soft drinks, airport transfers are not included in price. You are not allowed to bring your drinks to the boat with you; you have to get all of them from the bar on the boat. If you satisfied after the tour you can tip the crew.

12- Can we bring snorkels, masks and fins with us?
Snorkels, masks and fins are available for common use on most of the cabin charters boats, however for hygiene reasons you can bring your own stuff.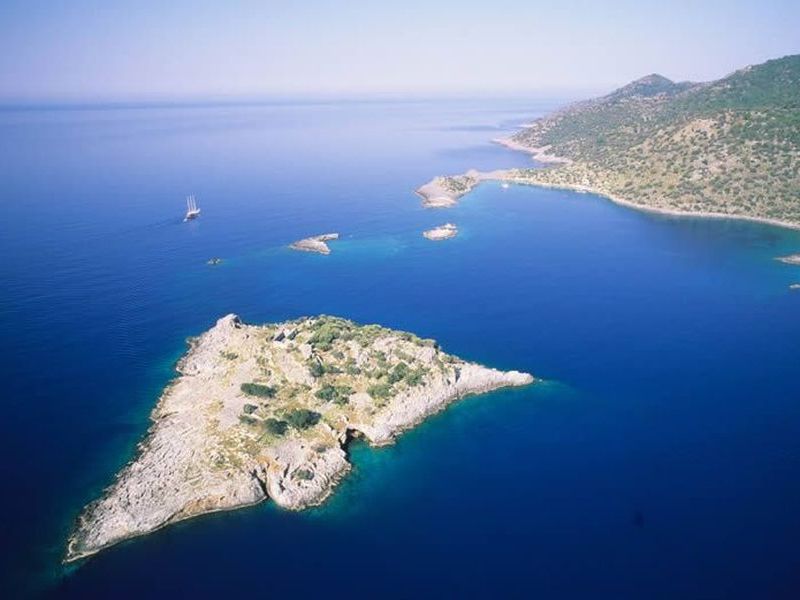 13- Is there Age Limitation for Kids in Cabin Cruise?
The children under 11 years cannot be accepted for cabin charters in all over Turkey . If you would like to go blue cruise with your children you can rent a private boat and enjoy the blue voyage.

14- What are Departure Days for Cabin Cruise?
A departure day for each itinerary is different and you should check them from our cabin charter itinerary page. In most of our itineraries in cabin cruise the first and last night will be in home port. Check – in time for departure day is 15:00 and in last day of the cruise you should leave the boat latest at 10:00.
15- What is the Restrictions for Smoking Cigarettes or Pipe On Board?
You are not allowed to smoke cigarettes or pipe inside in cabins and saloons because of security, health and hygiene reasons. You can smoke on the decks of the boat.

16- What are the Boat Categories for Cabin Cruise?
Cabin Charters Gulets without AC: These boats have the same design like the other boats and the only difference that they do not have any air condition. There is private wc and shower in each cabin. These boats can prefer in april, may and September, october trips when the weather is rather chilly in the evenings. The cabin rental fees of these boats is economical than others. Cabin Charters Gulets with AC: These boats have private wc, shower and AC in each cabin. The usage of the AC is different in every itinerary however you can use the AC at least 5 – 6 hours/day. According to the agreement between all boats we do not allow AC after 00:30 not to disturb other boats and cabins.

17- Can We Reserve Land Excursions or Hotel Before or After Cabin Charters?
We can arrange land excursions or make your hotel reservations before or after your Cabin Charter. According to the boats home port you can visit Ephesus, Dalyan or go to Turkish Bath, Village Tour or City Tour. If you want we can prepare a special package including hotel reservations, tours and airport transfers. Please visit our page: www.bodrumtour.com

19- Is There Electricity in the Boat? Can We Bring Our Electronic Devices?
The electricity is 220 volt in Turkey and you can charge your mobile phones, laptop, ipad etc. during sailing or if you are sailing with air-conditioned boat you will also have 220 volt electricity when AC is on.

20- What is the Payment Plan for Cabin Charters?
The down payment for cabin charters is 50% and the rest of the payment can be done on check in date as cash. If you make early booking cabin charter or your payment in december – january – february – march and april special discounts will apply to your total payment. We have discounts from % 10 up to % 30 for cabin charters.

21- What is All Inclusive Cabin Charter?
In all inclusive cabin charters unlimited beer –local wine- soft drinks – tea and coffee served from 11:00 to 23:30 in cups-glass service are included in price. Canned or glass soft drinks,, vodka, raki, gin all import beverages, red bull, ice tea, juices are not included in the price.