Southern and Northern Greek Islands are the most popular destinations for Blue Cruise. Bedise these two popular itineraries you should sail from Marmaris or Bodrum to Santorini, Mykonos, İos, Naxos, Paros Islands. You should decide on itinerary after you choose your boat. If you sail in Gokova and Hisaronu Gulfs before we suggest you to see Greek Islands famous with delicious local foods, taverns and beaches.

BODRUM – NORTHERN GREEK ISLANDS: Kos - Leros - Patnos - Lipsi - Kalimnos
BODRUM - SOUTHERN GREEK ISLANDS: Kos - Nisiros - Symi - Rhodos
MARMARIS - SOUTHERN GREEK ISLANDS: Symi - Rhodes
We can offer you different alternative itineraries, the simplest one is Kos, Symi, Nisyros or we can plan a long itinerary from Bodrum to Athens via Santorini, Mykonos, Ios, Paxos. Departure and return ports can be different for rentals; you can depart from Bodrum and return to one of the Greek Islands.
SAMPLE BLUE CRUISE ITINEARIES

Bodrum, Kos, Amorgos, Ios, Santorini, Mykonos - 10 days.
Bodrum, Kos, Santorini, Mykonos, Athens, Kefalonia, Korfu - 14 days.
Bodrum, Santorini, Mykonos, Athens, Corfu, Tivat, Dubrovnik - 21 days.
Bodrum, Mykonos, Athens, Corfu, Tivat, Dubrovnik, Hvar, Split - 21 days.
| | | | | |
| --- | --- | --- | --- | --- |
| GULET NAME | LENGTH ( mt ) | BEAM ( mt ) | CABIN | A/C |
24.00 mt
7.00 mt
4
25.00 mt
6.90 mt
7
28.00 mt
6.60 mt
9
28.00 mt
6.50 mt
9
---
GREEK ISLANDS WHICH YOU CAN VISIT DURING GULLET RENTALS
KOS ISLAND
Located very close to the coasts of Turkey, Kos island is the second most popular island of Dodecanese, after Rhodes. Due to its large size, Kos Greece keeps a balance in tourism development. Some spots are very organized, while others are almost secluded and away from mass tourism. Kos Town is a mixture of Venetian and Ottoman architecture with interesting sightseeing, such as a Medieval Castle, an Ancient Agora, a Roman Odeon and of course the famous Asklepieion, an ancient healing centre, in short distance from the Town and great place to visit in your Kos holidays. The most tourist places are located on the southern side of the island, including Kardamena and Kefalos. This is where visitors can find large golden beaches with crystal water.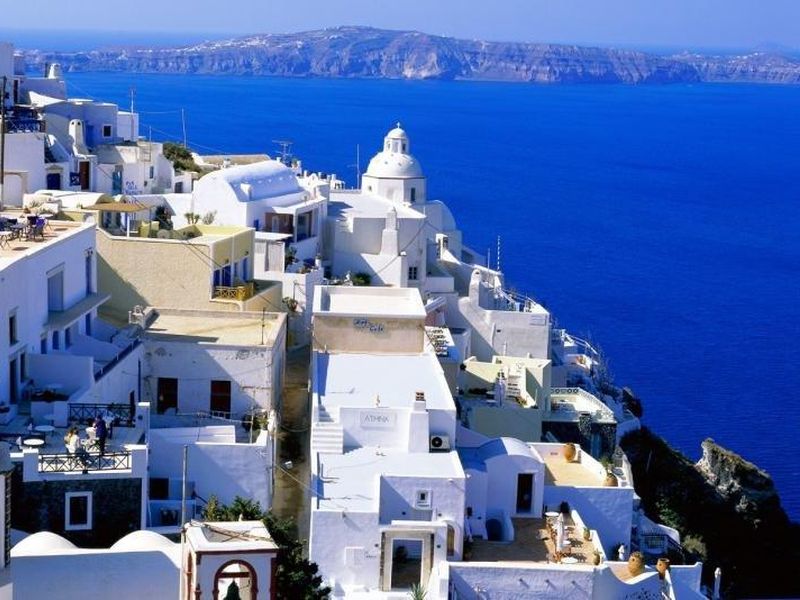 ---
RHODES ISLAND
Rhodes is the largest and most popular island of Dodecanese. With 300 days of sunshine per year, Rhodes Island is mostly famous for the romantic Old Town and the amazing beach resorts. The Old Town is among the best-preserved Medieval Towns of Europe, with strong walls, an impressive castle, paved paths and elegant stone mansions. A drive around the island will bring you to magnificent beaches, impressive sightseeing and picturesque villages.A lovely place is Lindos village with the Acropolis on top. The most tourist places are located close to Town, but you can also find many secluded places for total privacy around the island. Historically, Rhodes was famous worldwide for the Colossus of Rhodes, one of the Seven Wonders of the Ancient World. The Medieval Old Town of the City of Rhodes has been declared a World Heritage Site. Today, it is one of the most popular tourist destinations in Europe.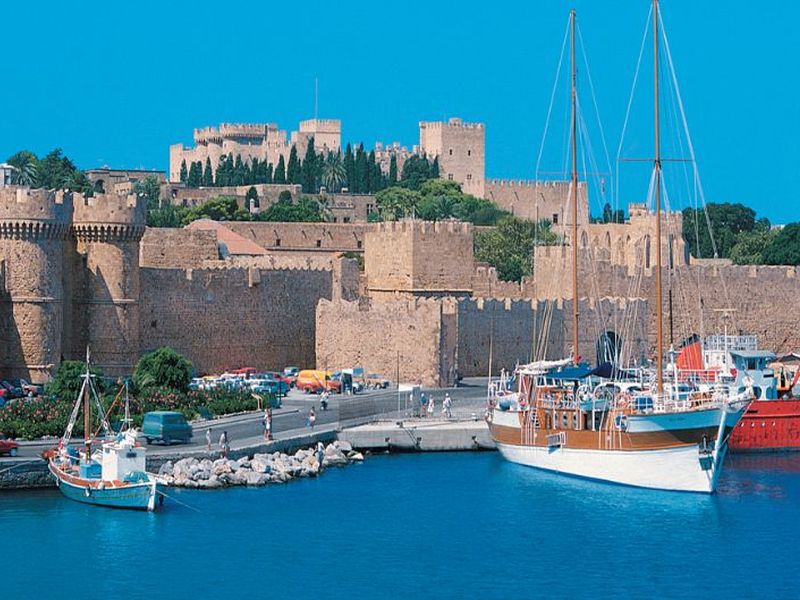 ---
SYMI ISLAND
Symi in Greece is a tiny island of Dodecanese that amazes visitors with the calm atmosphere and the fabulous architecture. In fact, Simi Island has one of the most impressive ports in the Greek islands, with elegant mansions constructed amphitheatrically on the slopes of a hill and offering breathtaking view to the sea from any spot. A promenade along the port is fabulous for a romantic evening.

The beaches of the island are small but clean. Some can be organized and others are secluded, but they all provide a relaxing atmosphere for your Simi holidays. An interesting sight is the Monastery of Panormitis, on the southern side of the island. Ideal for families and couples.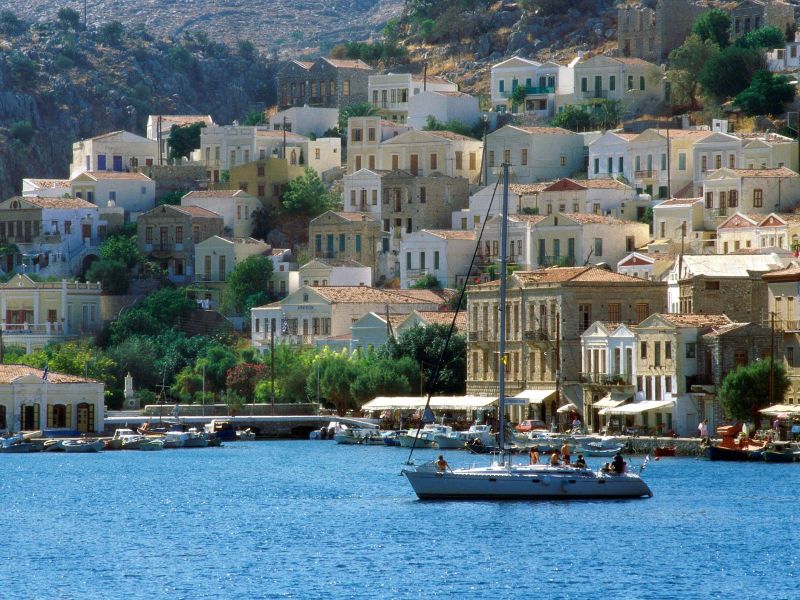 ---
KALYMNOS ISLAND
Kalymnos is known and named as the "Sponge-divers' island." Sponge diving has long been a common occupation on Kalymnos and sponges were the main source of income of Kalymnians, bringing wealth to the island and making it famous throughout the Mediterranean.The Island is also famous with rock climbing and bouldering during the whole year, scuba diving and beatiful fiords. Top 10 places to visit in Kalymnos are; Agios Savvas Monastery (Pothia), Neoklasiko Private Folklore and Historical Collections (Pothia), Archaeological Museum of Kalymnos, Sea World Museum Valsamidis (Vlychadia), Platis Yialos Beach, Factory of Natural Sponges (Pothia), Castle of Chora (Chorio), N S Papachatzis Sponge Factory, Folklore Museum, Chrysocheria Castle (Pothia), Maritime Museum of Kalymnos.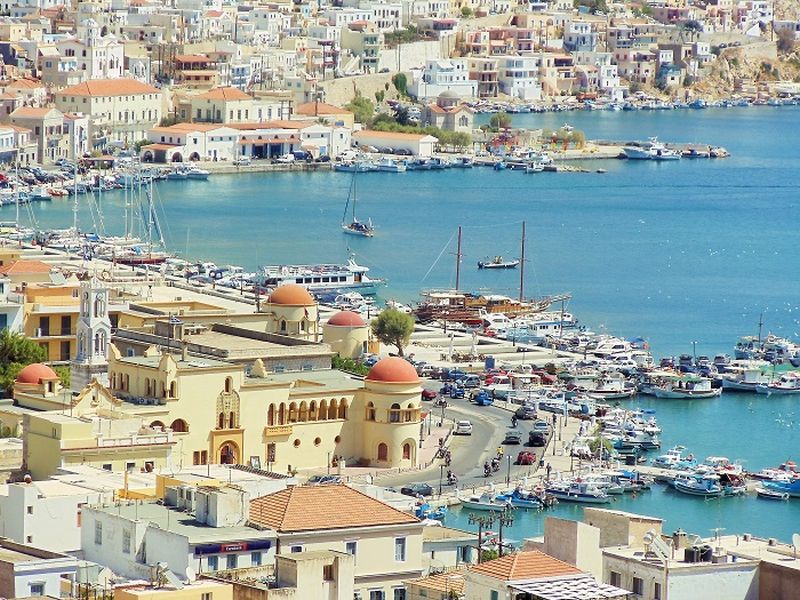 ---
LEROS ISLAND
A small island of Dodecanese, Leros is located between Patmos and Kalymnos. According to mythology, Leros Island was where goddess Artemis would go for hunting, as it had a rich population in deer. The long history of Leros Greece is depicted in the many sites around the island, such as the Medieval Castle and the interesting museums.

Alinda and Agia Marina are the most tourist places on the island, while a drive around the island will bring visitors to relaxing, crystal beaches. Over the last years, the island is developing as a diving destination due to the many ancient shipwrecks that have been found in the surrounding sea.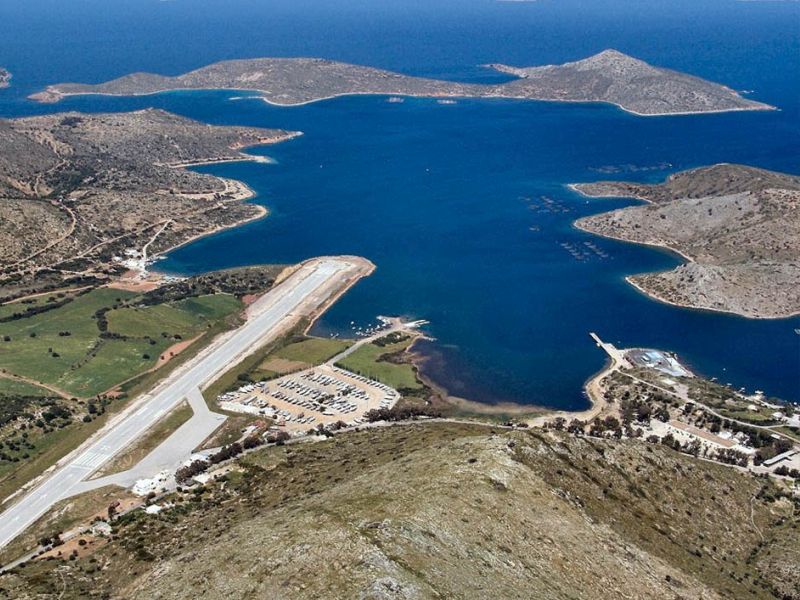 ---
PATMOS ISLAND
Patmos is a small Greek island in the Aegean Sea, most famous for being the location of both the vision of and the writing of the Christian Bible's Book of Revelation. According to tradition, it was in a cave in Patmos Island that Saint John the Divine was inspired the Book of Apocalypse. This is why there is a large Monastery of Saint John above Chora, the capital of the island.

This monastery is surrounded by strong walls and looks like a fortress. Chora is a great place to walk around the paved paths and enjoy a view to the Aegean Sea. The most tourist place of Patmos Island is Skala, while relaxing beaches are found all over the island.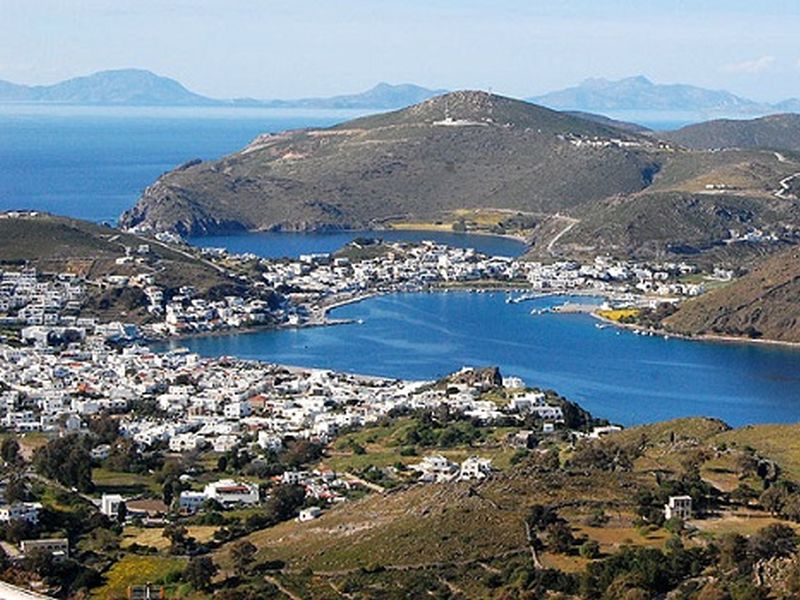 ---
SANTORINI ISLAND
Holidays in Santorini are the dream of a lifetime for many people. In fact, it is frequently included among the best destinations in the world. Santorini, or Thira, is the top destination in Greece and among the most romantic destinations in the Greek islands and also in the world. Located in the Aegean Sea, in the Cyclades islands, Santorini Island was the site of one of the largest volcanic eruptions in the world and what remain today is a submerged volcano and a caldera.

Amazing villages has been constructed on the edge of this caldera, with Cycladic architecture and breathtaking view to the sea. Apart from the fabulous caldera villages, Santorini Greece is also famous for the romantic sunset, the volcano and the luxurious resorts.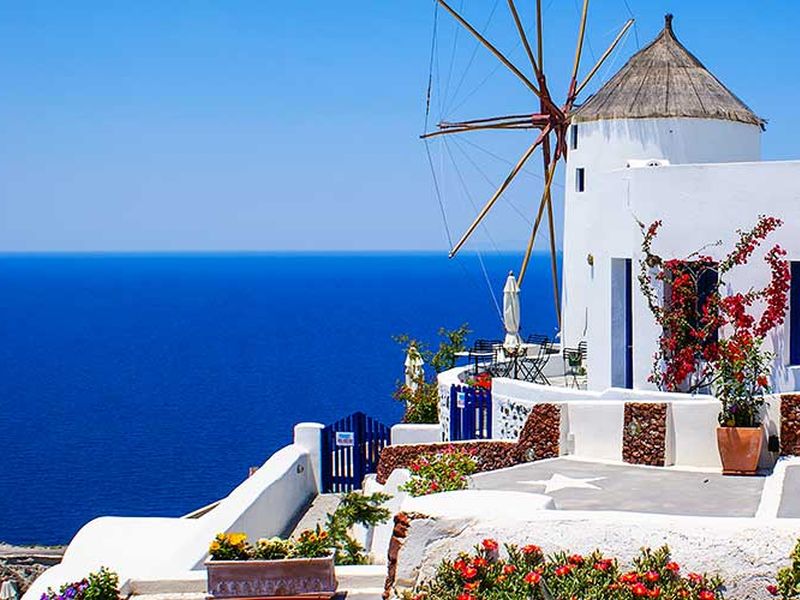 ---
MYKONOS ISLAND
Mykonos' nickname is "The Island of the Winds". Tourism is a major industry and Mykonos is well known for its vibrant nightlife and for being a gay-friendly destination with many establishments catering for the LGBT community. There are many things to do in Mykonos Greece, an island perfect for people of all ages: walk along the narrow streets of Chora, see the sunset from Little Venice, stay in luxurious hotels and swim in exotic beaches. Super Paradise, Paradise and Kalo Livadi are fabulous places to swim and spend a day under the hot sun. In the evenings, head to Mykonos Town and enjoy a night out in the many bars and clubs.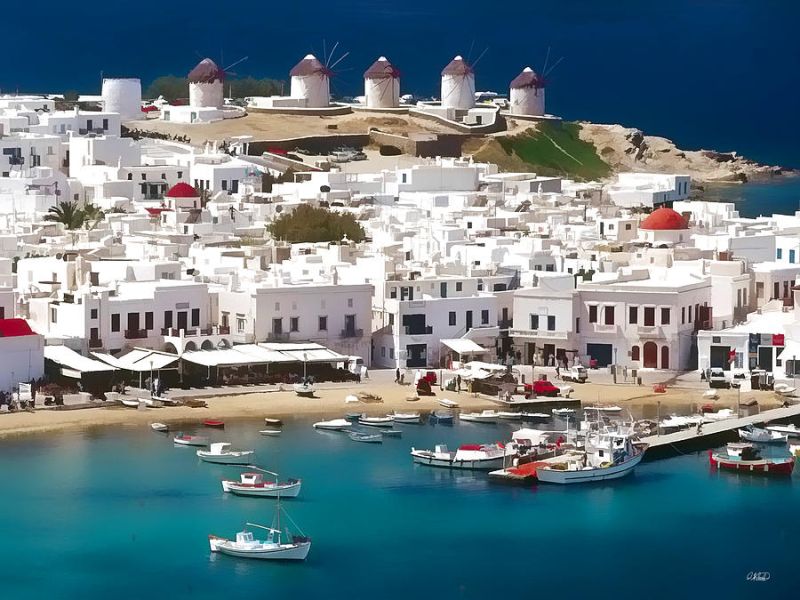 ---
NAXOS ISLAND
Naxos is a popular tourist destination, with several ruins. It has a number of beaches, such as those at Agia Anna, Agios Prokopios, Alikos, Kastraki, Mikri Vigla, Plaka, and Agios Georgios, most of them near Chora. As other cycladic islands, Naxos is considered a windy place perfect for windsurfing, as well as kite surfing. There are seven sports clubs in the island that offer both of these sports and other water activities. A big island in the heart of the Aegean Sea and its sea routes, with imposing mountain massifs and fertile valleys, inhabited by cheerful people with a tradition in music and dance, and full of beauty that enchants visitors. With its long history, important monuments and intense tourist life, it occupies a distinct place among the Cycladic islands.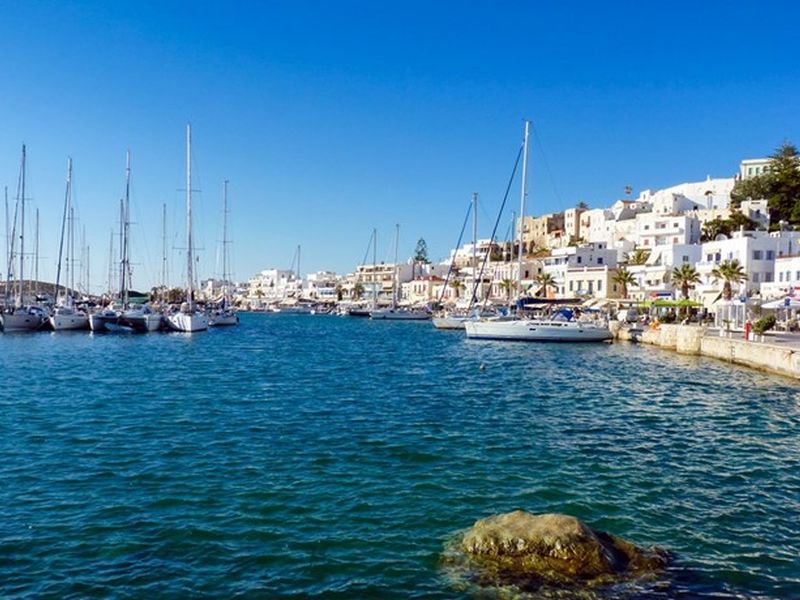 ---
PAROS ISLAND
Paros Island lies near Naxos in Aegean Sea. It is famous with its beautiful, clean and quite bays, white houses and nature. It is a good destination for elder Europeans who are looking for a quite holiday. Parian marble, which is white and translucent (semi-transparent), with a coarse grain and a very beautiful texture, was the chief source of wealth for the island. The capital, Parikia occupies the site of the ancient capital Paros. Parikía harbour is a major hub for Aegean islands ferries and catamarans, with several sailings each day for the port of Athens, Piraeus, Heraklion, the capital of Crete, and other islands such as Naxos, Ios, Santorini, and Mykonos.Back from the port is the town's principal church, the Panagia Ekatontapiliani, literally meaning "church of the hundred doors". It is said to have been founded by the mother of the Roman Emperor Constantine the Great Saint Helen, during her pilgrimage to the Holy Land.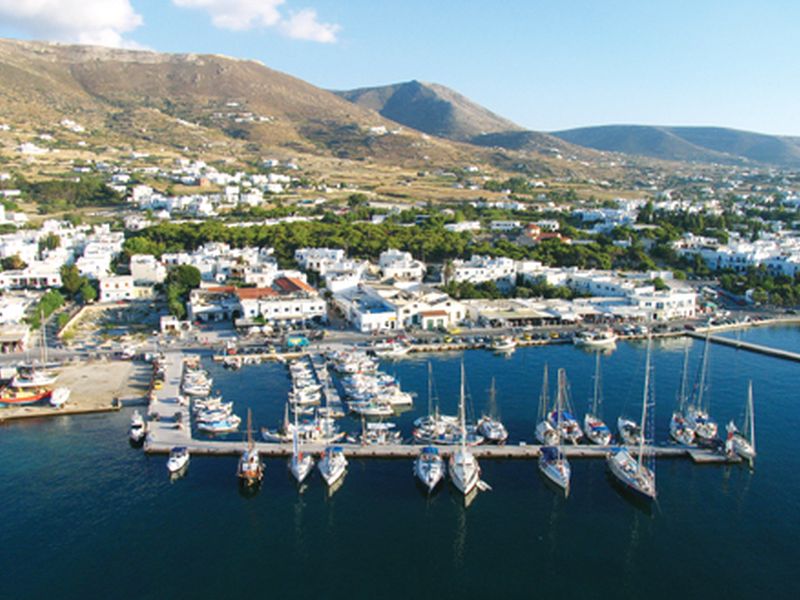 ---
IOS ISLAND
Ios is located between Santorini and Mykonos and it is famous with night life and parties. This hilly island is full of churches and chapels and everyday you can pray in different church. Ios is a cheaper island than Santorini and Mykonos and it attracts a large number of young tourists, many of whom used to sleep on their sleeping bags during the 1970s on the popular beach of Mylopotas after partying through the night. Today Mylopotas beach has been developed like Platys Gialos and Paradise Beach of Mykonos.