Blue Cruise is a very popular holiday which can be done by special designed gullets in different capacities in Bodrum, Gocek, Marmaris, Fethiye , Antalya and Greek Islands.
THERE ARE TWO WAYS TO MAKE BLUE CRUISE:

Cabin Charter: If you do not have enough number to hire a private boat you can prefer cabin charter for Bodrum, Marmaris, Fethiye or Greek Islands. We have 20 different itineraries for cabin cruises and number of cabins can change from 6 to 8, you can rent 1 cabin or more according to your numbers and cabin charter is the cheapest way to make Blue Cruise.

Private Gulet Rental: It is ideal for groups from 4 people (2 cabins) to 32 people (16 cabins) to rent a private boat.Blue Cruise in Turkey started with exploration tours of a very well known writer Cevat Sakir and his writer friends Azra Erhat and Selahattin Eyuboglu in 1950s and named as Blue Cruise after Azra Erhat's book in 1957. Cevat Sakir was sentenced to three-years' exile in Bodrum and started to explore beautiful bays and sea of Gokova Gulf, and these tours named as Blue Cruise.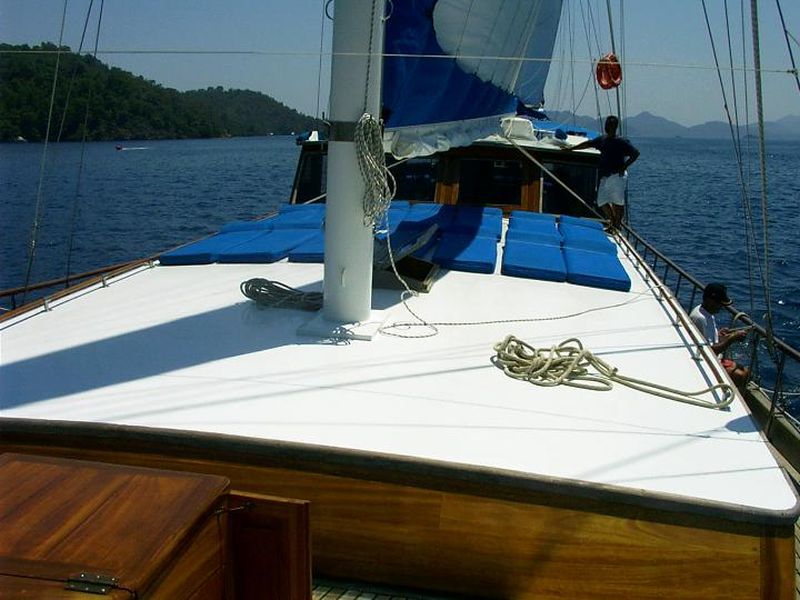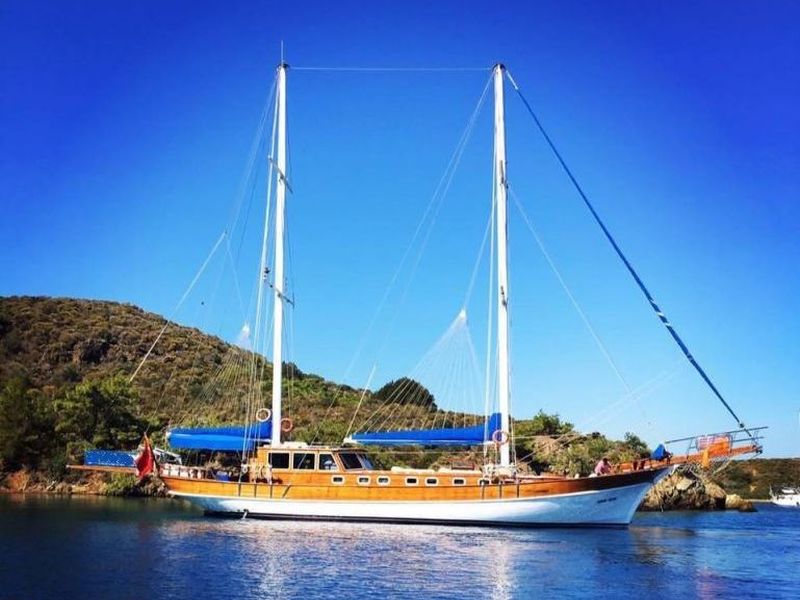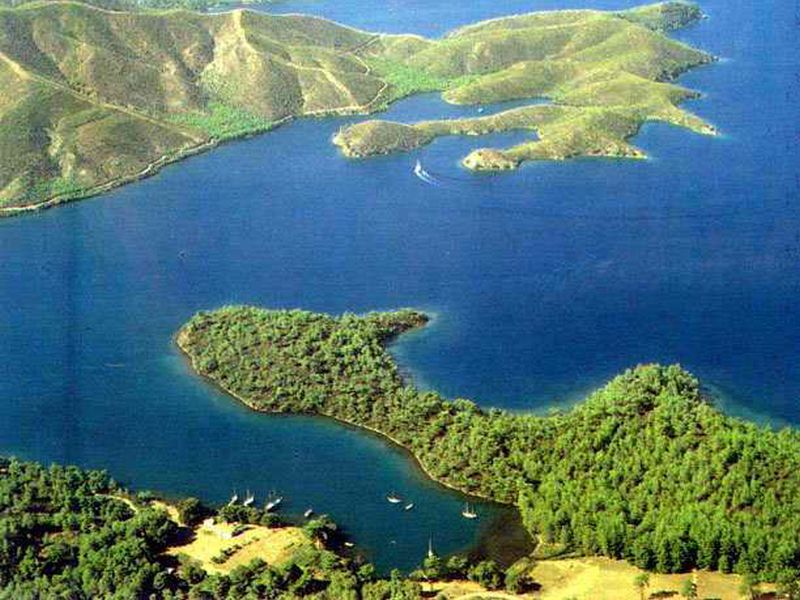 In those years simple fishing and sponging boats are used for Blue Cruise and after 90s the boats named Gullets with modern design, twin poles, AC, TV generator etc. are very popular in Blue Cruise and a very popular choice for holidays. In recent years you can make Blue Cruise in Greece and Crotia as well with Turkish gulets. There are lots of reasons to choose Blue Cruise.

You will enjoy sailing, waking up in different spot every day, the smell of the sea and the wind is the most beautiful perfume of the world, spending time with nature are some of them. Why you should choose Turkey for Blue Cruise? You can have blue sky and sea all over the world however the most important part starts when you drop the anchor.

You will have the most amazing food Turkish and Greek mezes on board, you will see different kinds of blue in the sea and you will enjoy the silence of nature in virgin bays, historical sites, hiking roads, All of these makes a blue cruise in Turkey a very special event. The Aegean and Mediterranean coasts are different from other parts of Turkey with its nature, history, food and hospitality.

It is becoming much easier to travel by plane to Turkey with direct flights from Europe. When you reach you can move away from your problems and enjoy Halicarnassus, Euromus, Cnidus, Ephesus, Myndus, Olympus, Ceramus, Phaselis, Hydra, Bodrum Underwater Museum, Bodrum Amphitheater, World Famous Mausoleum, Dalyan Mud Bath, Cleopatra Island during Blue Cruise.

If you prefer Greek Islands during Blue Cruise the most popular destinations are Rhodes, Kos, Symi, Kalimnos, Leros, Nisiros and Patmos (most famous for being the location of both the vision of and the writing of the Christian Bible's Book of Revelation). You can enjoy the silence bays, the colours of nature, waking up every day in different spot will take you away from the crowded big city life.

Blue Cruise means amazing sunsets, sun rises, sounds of the nature, bays and inutterable seas. If you would like to swim in virgin waters, every morning waking up in different views, reading in silence, fishing early in the morning blue cruise is ideal for you. You can explore underwater with your masks, fins and snorkel or explore the mainland while walking around. If you like taking photos the nature will give a lot of good pictures during sunrise and sunset.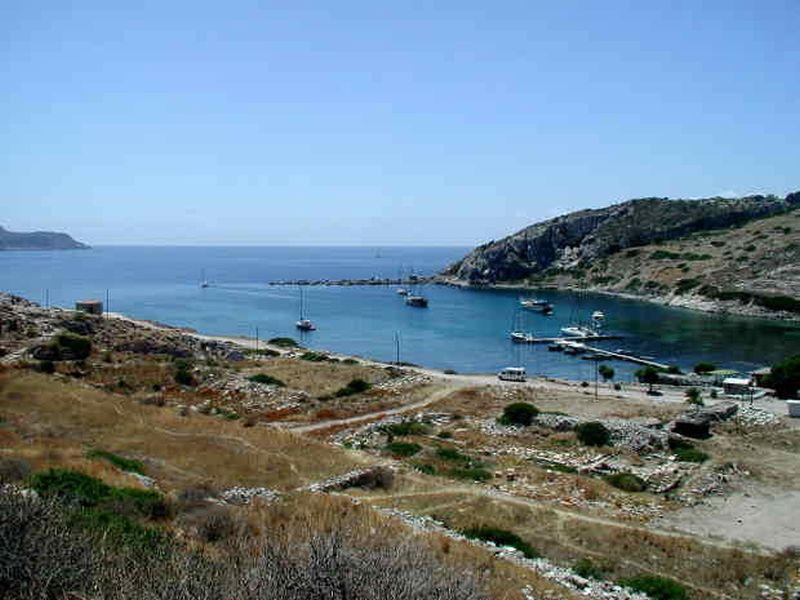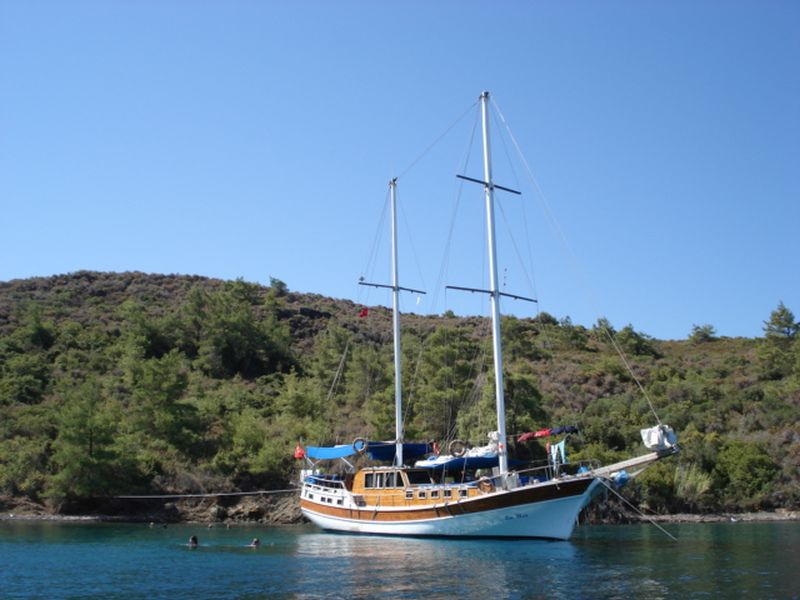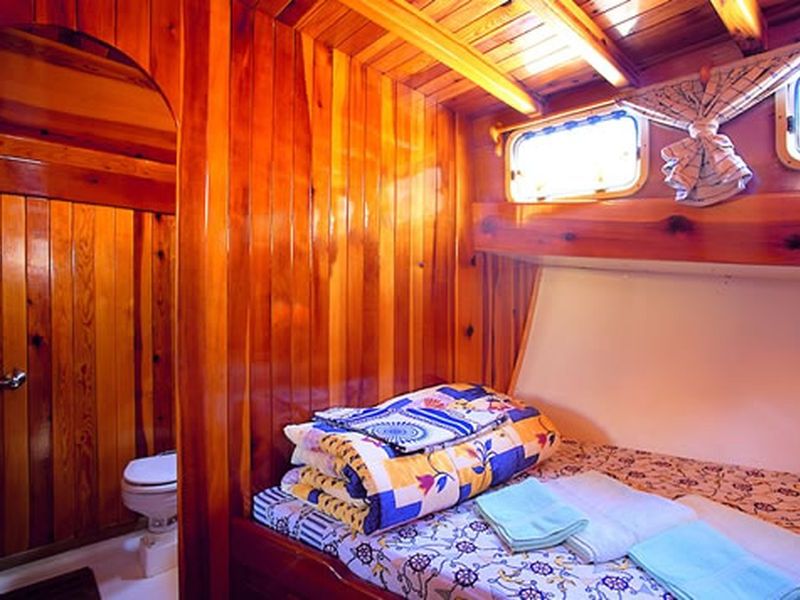 5 REASONS FOR BLUE CRUISE:
1. A private life on board for your family or friends when you rent private gulet. You can choose gulets, motor yachts, and sailing boats according to your pleasure, numbers and luxury need. A crew made of captain, cook and sailor(s) which will only serve for you. In blue cruise which you can decide the itinerary, menus, activities.

2. In most of the hotels all meals served as open buffet. The food n the buffet is tasteless and you have to eat at certain times with lots of people. If you prefer to go on a Blue Cruise, there can be a cook on the boat according to your request. The cook will prepare food such as famous Turkish and Greek mezes according to your menus and will serve them up to your schedule. If you prefer our agency, you can bring all your drinks with you or if you want we can order them for you.

3. You can enjoy the sounds, colours of the nature from your sailing home. You can decide your departure and return ports, if you have visa you can visit Greek Islands. You can make your holiday like celebrities and sail in the same itinerary with Hollywood stars. You start your tour from Bodrum, spend two weeks on boat sailing through Marmaris or Greek islands such as Kos, Rhodes, Symi, Nisiros and leave the boat in Fethiye or Gocek

4. You can avoid all the noise, entertainments and crowded beaches and pools if you hire a boat and sail. You can read your books or magazines, go for long walks in silence beaches or spend your time on boat enjoying the sound of birds and the sea.

5. You can stay as long as you want in Bodrum, Datca, Gocek, Fethiye, Marmaris, Kas, Kalkan, Olimpos, Antalya or Greek Islands shores, beaches, mainland visits. You can decide the itinerary, food serving times, bays which you visit and if you have 2 weeks holiday you can enjoy sailing to popular Greek Islands such as Mykonos or Santorini.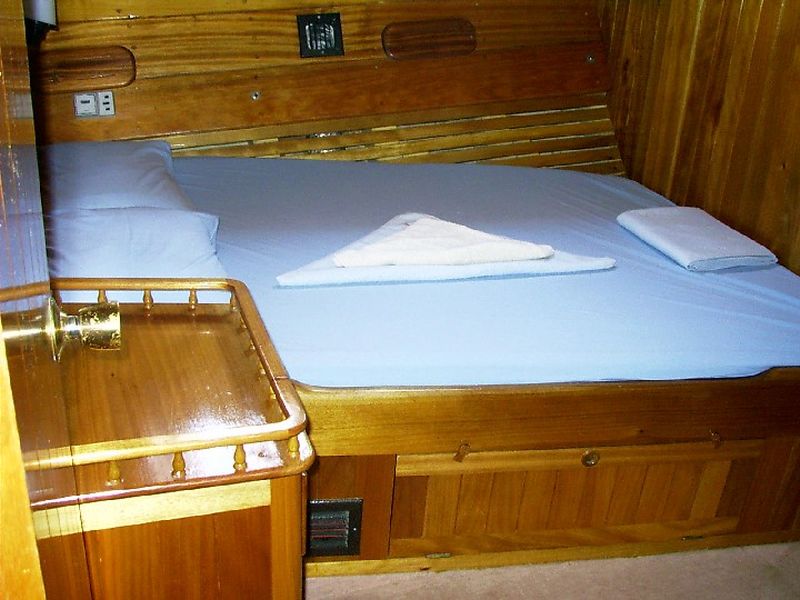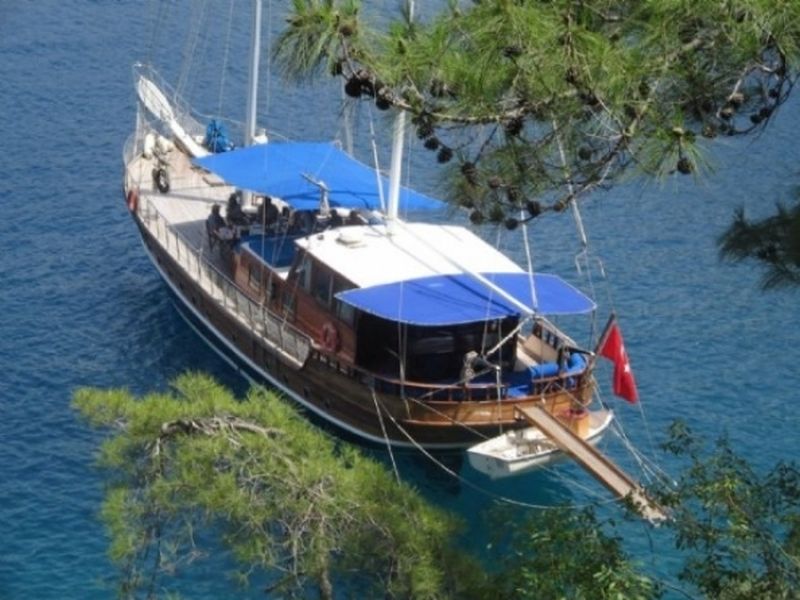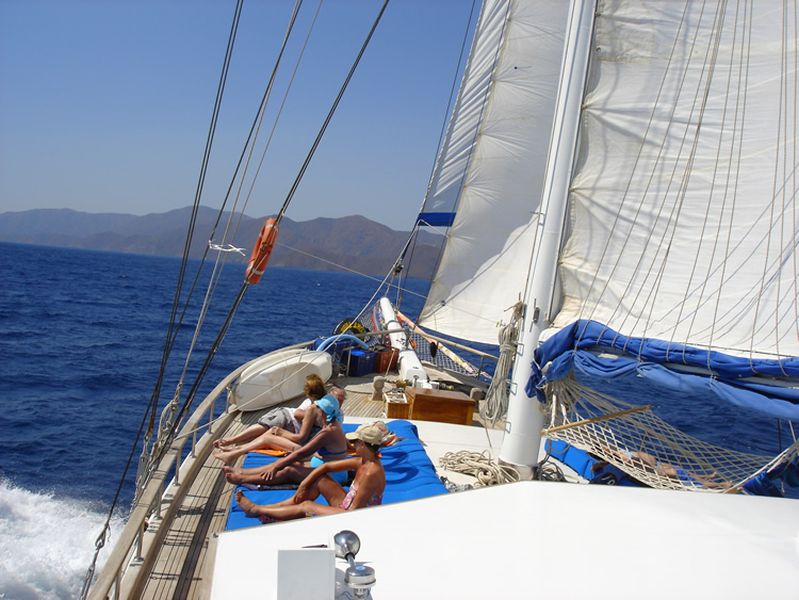 WHY BLUE CRUISE AND GULET RENTAL IN TURKEY?
* Gulets, in fact, originate from the southwest coast of Turkey especially from Bodrum or Gocek, which explains why Turkish coast has thousands more gulets than any other destination in the Mediterranean.

* Turkey has more than 7,000 kilometres of coastline, which makes it one of the most desirable sailing destinations in the world. Spain - France - Greece coasts totally shorter than Turkish Coasts.

* Due to its unique geographical position, Turkey is a truly remarkable blend of Eastern and Western culture waiting to be discovered. You can see every single day different culture and kitchen on the blue voyage trip.

* In combination with pleasant Mediterranean climate, sailing in Turkey is very relaxing - a perfect escape from your everyday busy life. Season start from April till November, nice blue sky and warm Waters waiting for you